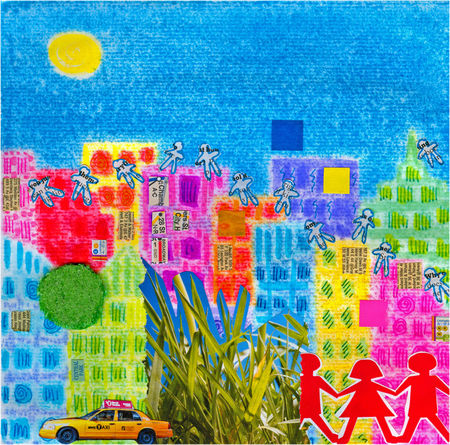 collage sur monotype du 27 avril 2009
sera exposé avec celui ci durant la semaine du 4 mai 2009:
The Concours
The Concours is a series of exhibitions consisting of works by League students. Each class holds an exhibition lasting a week. The cycle of exhibitions begins in January and continues through May, with usually three to four classes sharing the gallery at the same time.
The Concours takes its name from exhibitions and contests of various kinds held in French ateliers (for example, the Ecole des Beaux-Arts and the Academie Julian) during the nineteenth century, with the students competing for prizes, medals, or even for working spots in the studio. From its inception, the League has held similar concours. Early on, the instructors first picked their best students, and then all the works were exhibited together. There was a purchase prize of $105 called The Instructors' Prize, which was awarded to the student voted the best by a jury of League instructors. Eugene Speicher won this prize in 1908 for his portrait of fellow student Georgia O'Keeffe, and a still-life by O'Keeffe was also acquired for the League's collection.
Each week during the Concours, a judge assigns a seal or red dot to the work deemed best of each class. All of the red dot works are exhibited at the end of the year. A committee composed of members of the Board of Control may select works from this exhibit to be purchased for the League's Permanent Collection.